Humana Medicare now offers unlimited ways to earn bonuses, thanks to their new Supplement Bonus that provides benefits to both you and your consumers.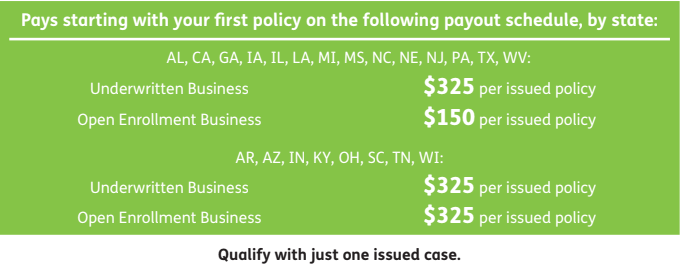 Check out the terms and conditions below:
Issued cases must be specific to Humana Achieve Medicare Supplement Plans. Application must be approved and policy active for 60 days or date bonus will be paid. Program period runs from 10/1/2022 to 12/31/2022. Qualification is evaluated by calendar month and will be paid according to each individual month.
Integrity Marketing Group (INTEGRITY) has the exclusive right to change the qualifications and/or rules for this program at any time, including cancellation. All decisions by INTEGRITY regarding program and/or its cancellation are final. Humana has no obligation to sponsor or pay any of the costs of the program for any qualifying participant related to this program.
Any payments related to this incentive program will be administered by Integrity Marketing Group. *Excludes Guaranteed Issued and underage disability cases except for certain states. Guaranteed Issued cases in IN, SC, TN, and WI will be paid according to individual state commission guidelines. G(HD) plans excluded from this bonus offer. Agent must be actively contracted and appointed with Humana and remain in good standing with Humana throughout the duration of the contest period. Agent may be obligated to disclose compensation to clients and prospective clients. Because state laws vary, agents should be aware of and comply with applicable state compensation disclosure requirements. Reporting of compensation from this incentive program and tax implications of this incentive program are the responsibility of the agent. Except as expressly modified herein, all provisions of the Humana Producer Contract and the Humana Individual Products Producer Partnership Plan (PPP) apply to this incentive program.
Are you contracted yet with Humana Medicare? If not, this might be the sign to get started!
Agility Producer Support
(866) 590-9771
[email protected]