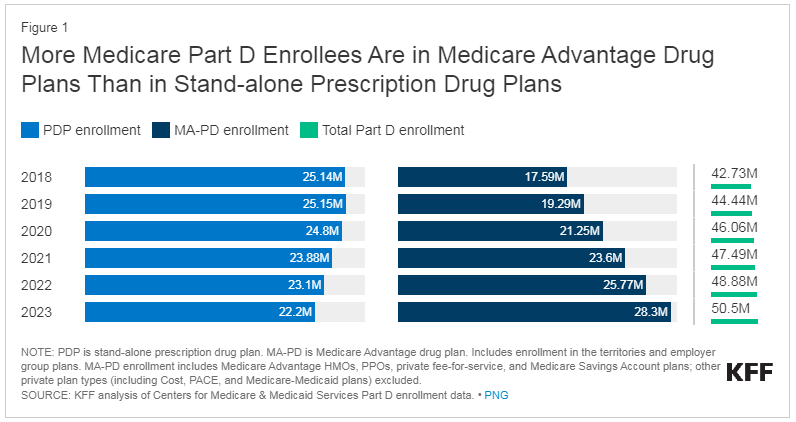 The Medicare Part D program extends prescription drug coverage to elderly adults and individuals with long-term disabilities under Medicare. This analysis from KFF delves into the enrollment and expenses associated with Medicare Part D in 2023, based on data from the Centers for Medicare & Medicaid Services (CMS). The study highlights the growth of Medicare Advantage drug plans within the Part D marketplace, where a limited number of large plan sponsors dominate enrollment. It also sheds light on the contrasting premium and cost-sharing structures between MA-PDs and stand-alone PDPs, making out-of-pocket cost comparisons challenging.
Notably, more than half of all Medicare Part D enrollees (56%) are now opting for MA-PDs, while the remaining 44% prefer stand-alone PDPs. This trend indicates a steady decline in PDP enrollment and a corresponding increase in MA-PD enrollment. In 2023, approximately 50.5 million beneficiaries are covered under plans providing the Part D drug benefit, with a considerable shift towards MA-PDs over the years.
Three major firms, namely UnitedHealth, CVS Health, and Humana, account for 57% of all Part D enrollees, highlighting their significant market share. Additionally, around 27% of all Part D enrollees receive premium and cost-sharing assistance through the Part D Low-Income Subsidy (LIS) program. Over time, LIS enrollment has shifted towards MA-PDs, coinciding with the rise in MA-PD enrollment.
Premiums for drug coverage differ drastically between MA-PDs and PDPs, with the average monthly premium for PDPs being four times higher than that for MA-PDs. Moreover, PDPs have a significantly larger deductible, seven times higher than MA-PDs. This disparity can be attributed to MA-PD sponsors utilizing rebate dollars to lower or eliminate their Part D premiums and cost-sharing amounts.
Cost-sharing amounts for generic drugs are generally lower for enrollees in both MA-PDs and PDPs. However, enrollees in PDPs often face a mix of copayments and coinsurance for different formulary tiers, while those in MA-PDs typically encounter copayments for all tiers except the specialty tier. Comparisons of out-of-pocket costs for different types of drugs across plan types are complicated by the divergent cost-sharing structures adopted by MA-PDs and PDPs, particularly for non-preferred drugs.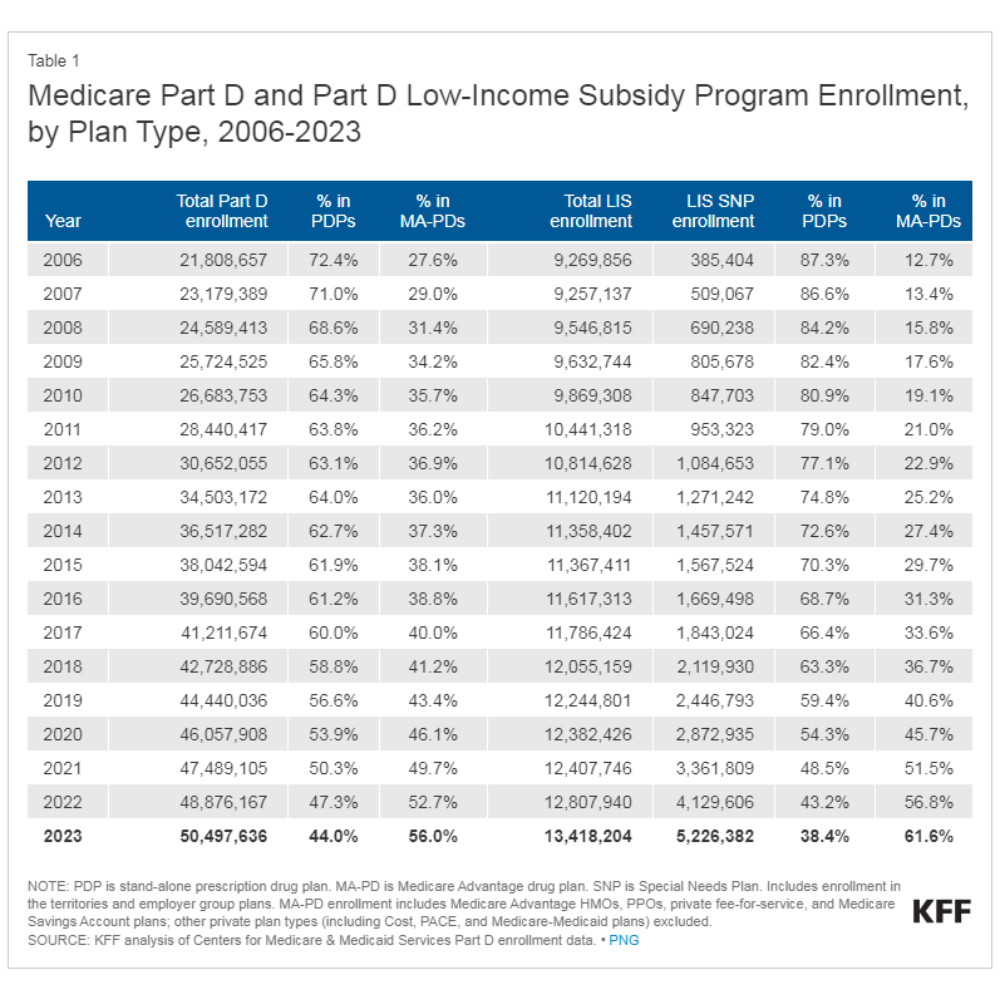 Overall, this analysis shows the evolving landscape of Medicare Part D enrollment and expenses in 2023, emphasizing the increasing popularity of MA-PDs and the challenges in directly comparing out-of-pocket costs between MA-PDs and PDPs due to their distinct cost-sharing arrangements.