In the United States, Medicare and Medicaid play a vital role in providing health coverage to 12.5 million individuals who are dually enrolled in both programs, often referred to as "dual-eligible individuals." While Medicare serves as their primary source of health insurance, Medicaid complements it with supplemental coverage. Nevertheless, concerns have arisen about fragmented care and the escalating costs faced by this diverse population. To address these issues, policymakers have been tirelessly exploring alternative coverage and financing options to enhance care coordination for these vulnerable individuals. This blog post delves into the varying Medicare coverage choices available to dual-eligible individuals, explores their enrollment patterns, and discusses the potential implications of proposed changes.
Diverse Medicare Coverage Options for Dual-Eligible Individuals
Dual-eligible individuals, like all Medicare beneficiaries, are presented with a crucial choice: opt for traditional Medicare or select a Medicare Advantage plan. The traditional Medicare option allows beneficiaries to access care from any Medicare-approved provider, whereas Medicare Advantage plans receive government payments to provide Medicare Part A and Part B benefits, oftentimes with additional coverage. In addition, dual-eligible individuals can opt for specially designed plans catering to their unique needs, known as dual-eligible plans.
Patterns of Enrollment
Recent data from 2020 reveals a near-even split among dual-eligible individuals, with just over half (51%) enrolled in traditional Medicare, while the remaining 49% have chosen Medicare Advantage plans. Within the latter group, a majority (61%) are in dual-eligible plans, with coordination-only dual-eligible special needs plans (D-SNPs) being the most common.
Significant variations in enrollment are evident across states, ranging from less than 30% in Hawaii and Puerto Rico to over 70% in 11 states. Furthermore, demographic differences play a role, with higher Medicare Advantage enrollment rates among beneficiaries aged 65 and older and among Black, Hispanic, and Asian/Pacific Islander beneficiaries.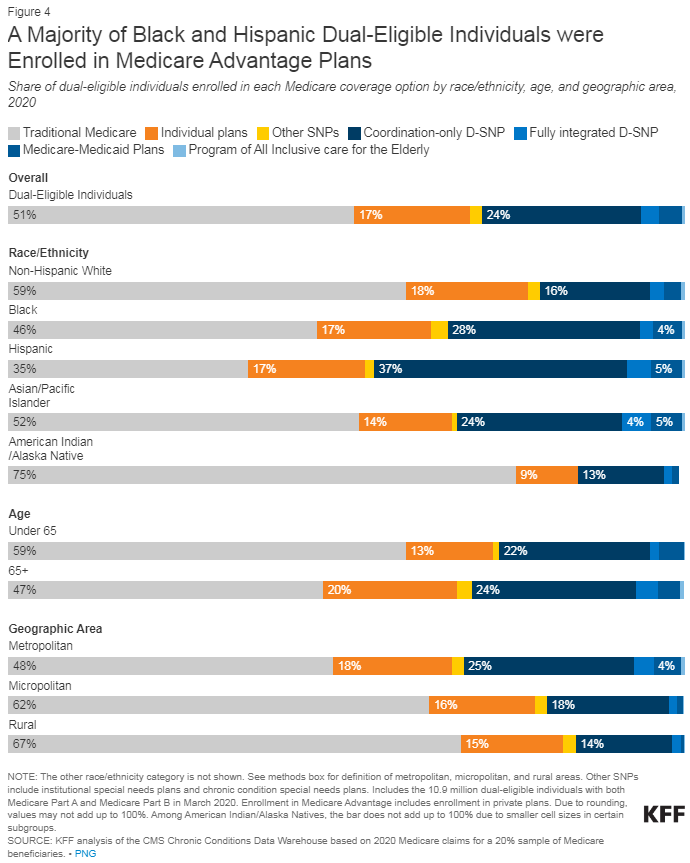 Coverage Options and Subgroup Disparities
Delving deeper into the data, it is evident that full-benefit dual-eligible individuals, who receive comprehensive Medicaid coverage, exhibit higher enrollment in traditional Medicare (55%) compared to their partial-benefit counterparts (42%). Conversely, partial-benefit dual-eligible individuals are more likely to choose Medicare Advantage plans (58%) compared to full-benefit dual-eligible individuals (45%).
The disparities continue when considering geographical location. Dual-eligible individuals residing in rural areas are more likely to be enrolled in traditional Medicare (67%) compared to those in metropolitan areas (48%). Additionally, higher Medicare Advantage enrollment is observed among Black, Hispanic, and Asian/Pacific Islander dual-eligible individuals when compared to non-Hispanic White and American Indian/Alaska Native beneficiaries.
Potential Implications and Future Considerations
In light of the challenges faced by dual-eligible individuals, policymakers have proposed expanding the role of Medicare Advantage plans specifically designed for this population. While such plans show promise in enhancing care coordination, their limited nationwide enrollment poses a significant implementation challenge. Any policy changes requiring dual-eligible individuals to transition from traditional Medicare to Medicare Advantage plans must be approached with caution to avoid disrupting care arrangements for the existing beneficiaries.
The intricate healthcare needs of dual-eligible individuals demand innovative solutions to improve care coordination and cost-effectiveness. Although certain Medicare Advantage plans targeting this population show potential, a thorough evaluation of their impact on patient experiences and program spending is crucial. Policymakers must carefully navigate these waters to ensure that the most vulnerable members of our society continue to receive the highest quality of care. By addressing concerns and adopting well-informed strategies, Medicare and Medicaid can effectively meet the diverse needs of the dual-eligible population.